High Desert Gems & Minerals has been providing quality natural gemstones from our mines in the western United States to the rock and gemstone community since our founding in 1995. We would also like to invite you to join us in the wild west for an unforgettable outdoor gemstone mining experience . As you dig for gems, you will learn about the formation of these gemstones from a geologist during a fun-packed rock digging adventure. We have several mines open to the public in California, Oregon, and Nevada. Our Himalaya Mine and Spectrum Sunstone Mine were both recently featured on Travel Channel's CASH & TREASURES show. Please select the from the links below to find out more information on these fee dig sites. For further information please feel free to contact us. Ask about our NEW SPECIAL: buy five fee digs and get one free! Visa, Mastercard, and Discover credit cards accepted.
As seen on Travel Channel's Cash & Treasures!! Dig pink and green tourmalines from the world famous Himalaya Mine! Cabins, camping and RV hookups available. Open year round, thursday - monday, 10am -3pm, $75 per adult, 12 - 15 yrs 1/2 price, under 12 yrs free. Click here for details!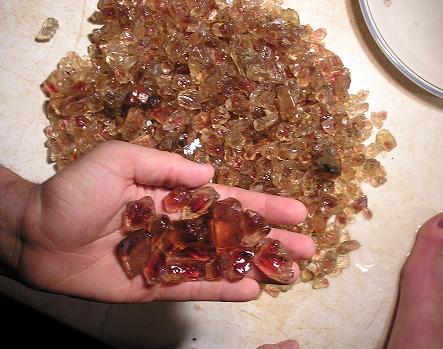 As seen on Travel Channel's Cash & Treasures!! Dig, screen, or pick off our conveyor belt for Oregon's state gemstones and rare Red Labradorite ! Tipi and cabin accommodations, also RV parking and camping! Open year round!
Click here for details!
(775) 830-5797 or (775) 772-7724
i n f o @ h i g h d e s e r t g e m s a n d m i n e r a l s . com
Contact Us