As seen on Travel Channel's Cash & Treasures
OPEN DAILY!
MAY 15th - November 1st,9am - 5pm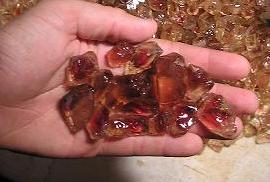 Juicy red sunstone
Spectrum Sunstone Mine, located near Plush, OR, in Lake County Oregon, is an Oregon sunstone mine open to the public for mining Oregon Sunstone. Visit Spectrum Mine and dig for Oregon sunstone gems from a designated pile of fresh unprocessed ore for free all day and keep what you find (mine personnel must be present). Additional days are $50 per person per day, keep all. Kids 12 years old and younger are free, always. Rock clubs and families and all rockhounds welcome. Some equipment provided (see "digging tools" at bottom of this page). Reservations are NOT required for digging.
Also, in response to rising fuel costs Spectrum Mine will be selling mine run HIGH GRADE CONVEYOR BELT RUNS through the mail. We will run production ore through our screen plant conveyor and professional miners will pick the stones for you for one hour and will mail them to you free of charge. (dig description below). The cost is $200, buyer keeps ALL.
SPECTRUM MINE fee digs...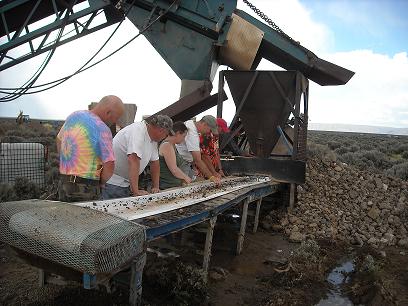 Pickin' stones off the conveyor
High-Grade Conveyor Belt Run: For the ultimate mining experience, pick off our commercial screen plant conveyor belt and our crew will help you pick the gems and payer gets to keep everything that shows up in one hour of running the plant, $200 per hour, nearly 6 tons of ore is processed during the hour and many stones are found. Water is used to wash the dirt from the ore processed on the conveyor belt.
High-Grade Condensed Commercial Ore Piles: Screen through concentrated high-grade sunstone bearing ore piles $150 or $200 per pile. Families and groups welcome. Water washing is available.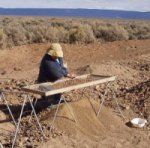 Screening for sunstone

All you can eat sunstone buffet concentrate ore pile

: Bring the sunstone ore on! Concentrate ore will be piled up for TWO days from 9am to 5pm. Great for families! Limit 2 people. The total cost is $300.00. 3 people $350, 4 people $400, 5 or more additional $100 each person. Kids 12 and under free with paying adult.

High-Grade Pit Digging: For the "hands-on" experience... Use your digging tools to break through basalt lava rock in one of our high-grade red and green sunstone pits. $100-$200 per person (or sectioned off area).

NEW!!! Cabin accommodations $45 per night. Stay on site at Spectrum Mine in one of our clean one room cabins. Beds, bedding, and cooking gear is not included. Free stay with for fee diggers. Call for reservations, or 775-772-7724.

Tipi Accommodations: Stay in a 20 foot tipi with fire pit, $40 per night. Free stay for fee diggers. Please call for tipi reservations, , or 775-772-7724

Spectrum Mine tipi at sunrise

About Spectrum Mine:
Facilities:

Hot showers and flushing toilets now available at Spectrum Mine. Also, very clean mouse-proof cabins are available!!!

Camping and Parking

: Primitive camping is allowed on our property at no charge. RV parking and tent camping is available, but there is no electricity for RV hook ups.

Roads:

The roads are great and small vehicles and RVs will be fine.

Water & Fire:

We have a water well (free water). Also, fire pit for camp fires is available on site for campers, campfires are regulated per forest service.

Our Store:

We have a store with faceted and rough gemstones available for purchase, including red labradorite a.k.a. Oregon Sunstone, Himalaya Mine Tourmaline from San Diego, CA, Nevada turquoise and variscite, and much more, you'll have to see...!

Tools:

Loaner screens are available on site (at no extra charge) and also screens available for purchase will be available at the mine to accommodate your mining experience. Please bring (if you can): shovel (whatever size you are comfortable with), hammer and screwdrivers, and plastic bags (for sunstones), and don't forget to bring a bucket!!!

Pets:

Pets

are

welcome, leashes are required at the mine!!!

Specials:

Buy five digs get one free!

Credit cards:

Visa, Mastercard, and Discover credit cards are accepted.
Plush, OR: Hart Mountain General Store & Saloon is a friendly place now serving food fer ya'll, including the best burgers in the county! Fuel and convenient store available, as well. Hart Mountain Store can be reached at: (541) 947-2491. Plush is approximately 25 miles from Spectrum Mine. Please stop by the Hart Mountain General Store and get your last necessary supplies or fuel, and my map, and then make no other stops until you get here... So, there ya go.
Accommodations in Plush: Stay in a beautiful rural mountain cabin, (541) 947-3322. www.hartmountaincabin.com.
Motels near Spectrum Mine: A little over 70 miles away is Lakeview, OR, where there are groceries and accommodations: Interstate 8 Motel please call 541-947-3341. Also there is an airport in Lakeview, OR called Oregon Sunstone Aviation, (541) 947-4222, if you need to land your personal airplane. The nearest airports are Bend, OR, and Klamath Falls, OR (3 hour drive to mine), followed by Reno, NV or Boise, ID (5 hour drive to mine).
Spectrum MINE:
Latitude: N 42 43.941
Longitude: W 119 52.007
Link to map and written driving directions